Love Airdrops? Want to Discover New Crypto Projects Just Getting off the Ground? Then You Need to Check out Parachute!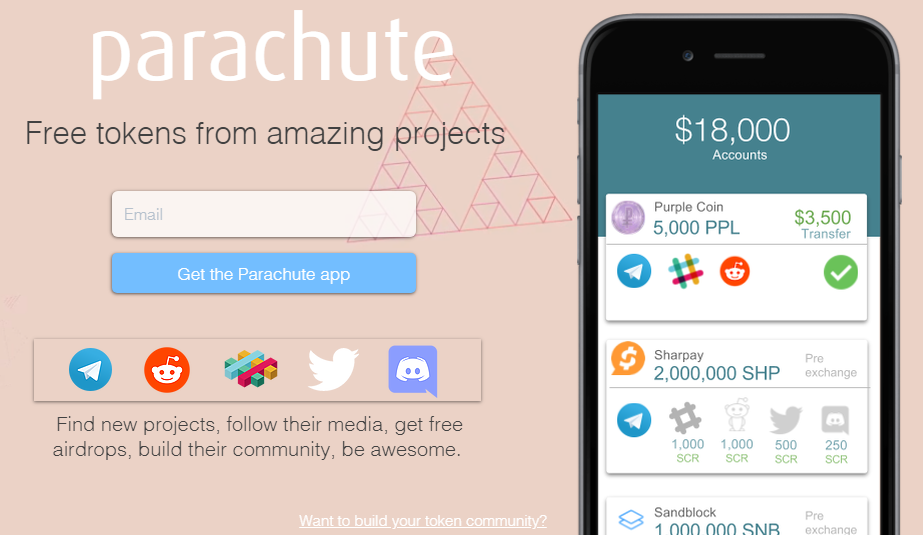 (Written by Greg Chetcuti, this article was originally published at steemit.com and can be read here)
I love airdrops! They're a great way to discover new crypto projects that you otherwise may never have heard of, while at the same time giving you a speculative piece of the action in the form of free tokens. Like come on, what's not to love about that? And now, there's a new project coming out of beta that's set to turn the airdrop world on its head. It's called Parachute, and it just might become one of your favourite crypto destinations.
Paradroppers
Parachute partners with up-and-coming crypto projects in an effort to help them gain exposure and build their initial communities. They do so by pairing them up with engaged fans, doing some marketing and promotion, and airdropping tokens on their behalf (quite a few if you get in on the ground floor!). Parachute's first such partner (aka "Paradropper") is PurpleThrone, a decentralized music exchange that's opening up a whole new world for undiscovered talent. Their token, PurpleCoin (PPC), will be used for a ton of different things, from fans tipping artists and purchasing tickets to live shows, to the artists booking venues and studio time. PurpleThrone is set to bring artists and fans together in a way that the music industry has never seen before. And if they can take Ticketmaster and their extortionary fees down a peg or two in the process, well that's pretty kick-ass.
Exchange
If this agency-like partnership that Parachute has with its Paradroppers wasn't enough, it's also going to have its own cryptocurrency exchange, which will list all Paradroppers' tokens. Getting listed on exchanges can be a challenge for new projects just starting out, and by having its own exchange Parachute hopes to help their Paradroppers overcome that challenge. Parachute's own token (PAR) will be the exchange's currency, and it can be used to trade between any of the tokens available on the exchange. This is just one more way that Parachute is helping create long-lasting engaged communities.
Parachuters
Speaking of communities, Parachute has its own amazing community that's growing stronger by the day. It's filled with people (aka "Parachuters") that will do anything they can to help Parachute and its Paradroppers succeed. You see, not only do you become part of a family when you get into the Parachute community, but you can also get rewarded! Parachute has set aside a good amount of their own token to incentivize the community, and you can earn tokens for helping out the team. This is in addition to the free PAR tokens you already receive just for signing up. Parachute is like the Lil Wayne of the crypto world, makin' it rain tokens up in this b*tch!
The Parachute community is run by Captain Parachute, an individual who in all likelihood is actually a hummingbird with a significant caffeine addiction, or possibly a squirrel that downs 10 cans of red bull a day. This guy's energy levels are through the roof, and are only matched by his vision for Parachute and his love for the community. His motivation is simply infectious once you start getting involved in the community. One day you're joining the community to say hi, and the next day you're so involved that you're getting a tattoo of a parachute on your ass (Oh, that's just me? Dammit!).
In Closing…
So if you're looking to get involved in some amazing communities that are still on the ground floor, while at the same time getting airdropped some of that sweet token goodness, head on over to Parachute's website or Telegram and say hi!
Parachute (PAR)
Website: https://www.parachutetoken.com
Telegram: https://t.me/parachutetokengroup
PurpleThrone/PurpleCoin (PPC)
Website: http://newsustoday.com/purple_throne
Telegram: https://t.me/purplecoin
Follow Greg Chetcuti on his Website for the latest in crypto news